News Channel
What's On Now?
BBC World Service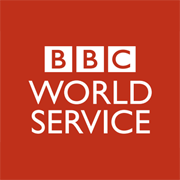 ---
Listen:

Windows Media

RealPlayer

aacPlus

Mobile - rtsp://mobile.wksu.org/news.sdp
---
Later Today On WKSU's News Channel
5:00
Morning Edition®
9:00
The TakeawayTM
The Takeaway is a national morning news program that invites listeners to be part of the American conversation. Hosts John Hockenberry and Celeste Headlee, along with partners The New York Times, BBC World Service, WNYC, Public Radio International and WGBH Boston, deliver news and analysis and help you prepare for the day ahead.
10:00
On Point
On Point unites distinct and provocative voices with passionate discussion as it confronts the stories that are at the center of what is important in the world today.
12:00
Here and Now
Here! Now! Imperative: not to be avoided: necessary. In a typical week, the show will cover not only all the big news stories, but also the stories behind the stories, or some of the less crucial but equally intriguing things happening in the world.
---
News Channel Schedule
(

Printer-friendly Schedule
)
WED
(

Printer-friendly Schedule
)