News Channel
What's On Now?
Inside Europe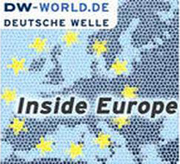 ---
Listen:

Windows Media

RealPlayer

aacPlus

Mobile - rtsp://mobile.wksu.org/news.sdp
---
Later Today On WKSU's News Channel
7:00
Living On Earth®
Steve Curwood hosts NPR's weekly environmental news and information program, offering features, interviews and commentary on a broad range of ecological issues.
8:00
Weekend Edition®
10:00
Wait Wait... Don't Tell Me!®
11:00
The Best of Car Talk®
NPR's hilarious, fast-paced call-in program with Boston brothers Tom and Ray Magliozzi takes the fear out of car repair and finds the fun in engine failure.
---
News Channel Schedule
(

Printer-friendly Schedule
)
WED
(

Printer-friendly Schedule
)