News Channel
What's On Now?
BBC World Service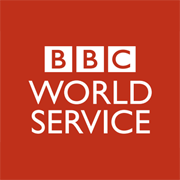 ---
Listen:

Windows Media

RealPlayer

aacPlus

Mobile - rtsp://mobile.wksu.org/news.sdp
---
Saturday On WKSU News
12:00
BBC World Service
For over 70 years, BBC World Service has been the globe's most comprehensive source for news. When news breaks -- anywhere, anytime -- BBC is there.
5:00
To The Best of Our Knowledge
To the Best of Our Knowledge is an audio magazine of ideas -- two hours of smart, entertaining radio for people with curious minds addressing topics accross the spectrum of life today.
6:00
Inside Europe
Inside Europe provides listeners with the latest developments in Europe as a network of staff and freelance correspondents look beyond the headlines to provide analysis, background and color to make the European story relevant for American listeners.
7:00
Living On Earth®
Steve Curwood hosts NPR's weekly environmental news and information program, offering features, interviews and commentary on a broad range of ecological issues.
---
News Channel Schedule
(

Printer-friendly Schedule
)
WED
(

Printer-friendly Schedule
)