Loading...


Economy and Business



Thursday, March 19, 2009




Youngstown's plan to shrink is slowly coming together




Some residents impatient with rate of change




by WKSU's KAREN SCHAEFER



Reporter
Karen Schaefer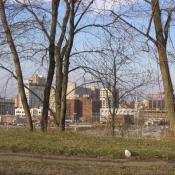 The former steel city is trying to reshape its image, while physically shrinking housing and building stock
Courtesy of Karen Schaefer
Download (WKSU Only)
Youngstown got a lot of national and even international attention two years ago when it formally decided to shrink the city. Since then the former steel town has been tearing down abandoned houses with the goal of pulling out of some neighborhoods and turning them into urban gardens or public green space. Some say the plan is working " others aren't so sure.
The sound of bulldozers knocking down buildings is a familiar one in most cities, but in Youngstown it's a constant sound track. Since the collapse of the steel industry in the 1970's the city's population has shrunk from 170-thousand residents to less than 73-thousand. A few years ago, Youngstown decided to embrace its new size. The city adopted a redevelopment plan called Youngstown 2010. A key component is to knock down abandoned homes and vacant buildings and then to leave the property open, rather than redevelop it. City planner Anthony Kobak says eventually some neighborhoods will be abandoned and utilities permanently turned off.
---
---
---
Stories with Recent Comments