Loading...



From WKYC.COM / TV 3
Get the latest school closings and delays


Funding for WKSU is made possible in part through support from the following businesses and organizations.
---
For more information on how your company or organization can support WKSU, download the WKSU Media Kit.

(WKSU Media Kit


)
---

Government and Politics



Wednesday, May 20, 2009




Why can't Northeast Ohio be more like Minneapolis




"Regional Prosperity Initiative" calls for pooled resources, planning


by WKSU's M.L. SCHULTZE


Web Editor
M.L. Schultze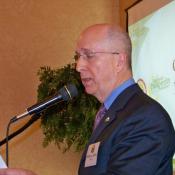 Hudson Mayor William Currin outlines the perceived benefits of regional land planning and tax use at a meeting in Akron Wednesday
Courtesy of M.L. Schultze
Download (WKSU Only)
Northeast Ohio can spent its money wiser, govern better, control sprawl and even out the disparities of rich and poor communities. And it can have a structure in place to do all that by Jan. 1. That's the sales pitch communities throughout the region are hearing from backers of the new "regional prosperity initiative."
---
---
---