Loading...



From WKYC.COM / TV 3
Get the latest school closings and delays


Funding for WKSU is made possible in part through support from the following businesses and organizations.
---
For more information on how your company or organization can support WKSU, download the WKSU Media Kit.

(WKSU Media Kit


)
---

Environment



Friday, June 19, 2009




US EPA agrees with state officials that much of the Cuyahoga is now healthy




But they're holding off taking the river off the list of toxic hotspots until the entire Cuyahoga is clean




by WKSU's KAREN SCHAEFER



Reporter
Karen Schaefer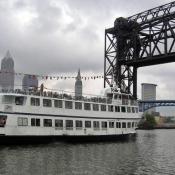 Pleasure boats now ply the river that once burned. Federal officials are recognizing major milestones in restoring the Cuyahoga River to health
Courtesy of Karen Schaefer
Download (WKSU Only)
State environmental officials will have another reason to celebrate the rebirth of the Cuyahoga River when they gather in Cleveland Monday on the 40th anniversary of its burning.
---
---