Loading...



From WKYC.COM / TV 3
Get the latest school closings and delays


Funding for WKSU is made possible in part through support from the following businesses and organizations.
---
For more information on how your company or organization can support WKSU, download the WKSU Media Kit.

(WKSU Media Kit


)
---

Economy and Business



Monday, July 20, 2009




Cleveland Ford engine plant now shipping EcoBoost engines




Increasing demand boost production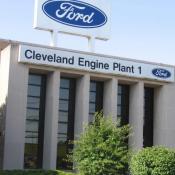 Ford Engine Plant No. 1 in Brook Park is ground zero for the company's new EcoBoost engine. Ford eventually plans to use the fuel-saving engine in 85-percent of its U.S. vehicles
Courtesy of Karen Schaefer
Download (WKSU Only)
The future of Ford's Engine Plant No. 1 rests with two concerns " the economy and the environment. The plant re-opened about 3-months ago to build Ford's new "Eco-Boost" engine and plant supervisors are hoping new car sales will improve so they can expand operations.
---
---