Loading...



From WKYC.COM / TV 3
Get the latest school closings and delays


Funding for WKSU is made possible in part through support from the following businesses and organizations.
---
For more information on how your company or organization can support WKSU, download the WKSU Media Kit.

(WKSU Media Kit


)
---

People



Monday, October 19, 2009




African-Americans mark the 150th anniversary of John Brown's raid on Harpers Ferry




Most see Brown and his followers as heros




by WKSU's KAREN SCHAEFER



Reporter
Karen Schaefer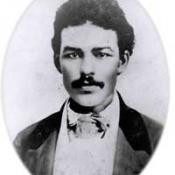 The only known photograph of John Anthony Copeland, who was 25-years old when he was executed for treason after participating in the raid on Harpers Ferry
Courtesy of Kansas State Historical Society
Download (WKSU Only)
One hundred-fifty years after John Brown made his unsuccessful raid on the U.S. arsenal at Harpers Ferry, some Americans are still not sure what to make of him. But for many African-Americans, Brown was a hero and so were the men who followed him. This weekend more than fifty descendants of one of Brown's raiders returned to the place where Brown and his men fought and died with the goal of freeing the slaves.
---
---