Loading...



From WKYC.COM / TV 3
Get the latest school closings and delays


Funding for WKSU is made possible in part through support from the following businesses and organizations.
---
For more information on how your company or organization can support WKSU, download the WKSU Media Kit.

(WKSU Media Kit


)
---

Economy and Business



Friday, October 23, 2009




FirstEnergy to defend light bulb program later this month




Customers don't understand why they have to pay more to save energy




by WKSU's KAREN SCHAEFER



Reporter
Karen Schaefer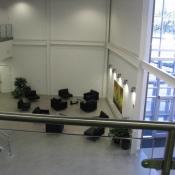 FirstEnergy recently built an energy-efficient building at its west campus, but the company is asking residential customers to pay for their own energy savings
Courtesy of Karen Schaefer
Download (WKSU Only)
How many electric utility customers does it take to screw in a light bulb? For one Ohio utility the answer seems to be nearly two-million. That's how many residential customers Akron-based FirstEnergy Corporation wants to send a pair of energy-efficient bulbs " and then charge nearly three times what they cost.
---
---