Loading...



From WKYC.COM / TV 3
Get the latest school closings and delays


Funding for WKSU is made possible in part through support from the following businesses and organizations.
---
For more information on how your company or organization can support WKSU, download the WKSU Media Kit.

(WKSU Media Kit


)
---

Economy and Business



Monday, March 15, 2010




Possible sale of Cedar Point concerns Sandusky area residents




Cedar Point is one of Northern Ohio's most identifiable attractions


by WKSU's TIM RUDELL


Reporter
Tim Rudell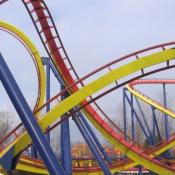 Cedar Point has 17 coasters, more than any other park in the world
Courtesy of Tim Rudell
Download (WKSU Only)
In The Region:
Cedar Point's parent company, Cedar Fair wants to sell itself to get out from under a big debt. But many stock holders oppose a proposed deal -- some are investment firms that want a better price...some are local share holders who just don't want "their" Sandusky-based company sold.
---
---
---