Loading...



From WKYC.COM / TV 3
Get the latest school closings and delays


Funding for WKSU is made possible in part through support from the following businesses and organizations.
---
For more information on how your company or organization can support WKSU, download the WKSU Media Kit.

(WKSU Media Kit


)
---

Sports



Tuesday, March 23, 2010




Terry Pluto: Welcome back, Z




Pluto reflects on the obstacles Zydrunas Ilguaskas has faced on and off the court as he returns to the Cavs


by WKSU's AMANDA RABINOWITZ


Morning Edition Host
Amanda Rabinowitz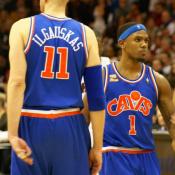 Zydrunas Ilgaukas with Cavaliers teammate Daniel Gibson earlier this year. Ilgaukus is now back with the Cavs. It's a move Terry Pluto says fans welcome at many levels.
Courtesy of Brandon Davis, WKSU
Download (WKSU Only)
In The Region:
Veteran Cleveland Cavaliers center Zydrunas Ilgauskas likely will back with the team to play at New Orleans Wednesday night. The fan favorite who was traded to Washington has re- signed a one-year deal with the Cavs. WKSU's Amanda Rabinowitz talks to the Plain Dealer's Terry Pluto about what makes 'Z' so special to the city of Cleveland and its fans.
---
---