Loading...


Government and Politics



Thursday, May 27, 2010




Drew Carey tells Cleveland City Council too much government is pushing city farther into a hole




Cleveland native pushing libertarian solutions


by WKSU's KEVIN NIEDERMIER


Reporter
Kevin Niedermier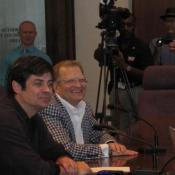 Reason Foundation Vice President Nick Gillespie (front) and Drew Carey getting ready to address city council.
Courtesy of Kevin Niedermier
Download (WKSU Only)
In The Region:
Cleveland's woes can be lessened through libertarianism. So says actor, comedian, game show host and Cleveland native Drew Carey. He laid out his "less government" ideas to Cleveland City Council today. Carey was invited to address council after he produced a series of short web videos depicting Cleveland as a sinking city that could right itself with more libertarian policies.
---
---
---
Stories with Recent Comments