Loading...


Arts and Entertainment



Thursday, June 24, 2010




Ohio Light Opera continues to evolve in Wooster




In its 32nd season, Ohio Light Opera mixes more musicals with traditional operettas


by WKSU's AMANDA RABINOWITZ


Morning Edition Host
Amanda Rabinowitz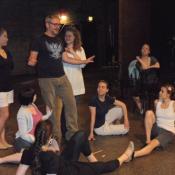 Rehearsal on the Ohio Light Opera set of "The Gypsy Princess". It's one of seven shows the Ohio Light Opera performs this summer.
Courtesy of Amanda Rabinowitz
Download (WKSU Only)
In The Region:
The Ohio Light Opera is exploring new ground in its 32nd season in Wooster. This summer's seven shows in repertoire include Gypsy -- the Broadway show that celebrates the life of stripper, Gypsy Rose Lee." Over the last decade, the troupe has been weaving Broadway musicals into its traditional Gilbert and Sullivan operettas. That means the cast and crew must be pretty flexible when it comes to musical genres.

American opera director James Stuart founded the Ohio Light Opera at the College of Wooster in 1979. A specialist in performing, directing and translating the Gilbert and Sullivan collection, he headed up the company for two decades before retiring in 1999. Since then, artistic directors Steven Diagle and Julie Wright Costa have added Broadway musicals to try to broaden the audience.
---
---
---
Stories with Recent Comments