Loading...


Government and Politics



Friday, June 25, 2010




Ohio Supreme Court takes on the issue of who owns the Lake Erie shoreline.




Recent U.S. Supreme Court ruling only muddies the waters.


by WKSU's JEFF ST. CLAIR


Reporter / Host
Jeff St. Clair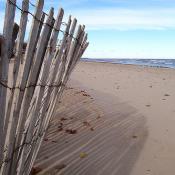 Lakefront property owners are fighting the state over where private property ends and public access to the lake begins.
Download (WKSU Only)
Traditionally you could walk or fish from anywhere along Lake Erie's shore. Or is it the other way around? Property owners have always had the right to limit who steps on their land right up to the water's edge.

Those opposing positions are the at the heart of a legal battle before the Ohio Supreme Court this summer. Lawyers for the 7000 member Ohio Lakefront group, representing the property owners, and the Ohio Attorney General, environmental and sportsmen groups are busily writing briefs due July 12th.
The high court of Ohio's neighbor, Michigan, ruled in favor of public access in 2005 in a nearly identical case, citing the rights of beach walkers. Just last week the U.S. Supreme court unanimously upheld the rights of the public in a beach-front property case in Florida.

How will those cases influence Ohio's lake shore dispute? That's one of the questions for Ben Barros. He's a property law expert from the Widener Law School in Harrisburg, Pennsylvania.
---
Related Links & Resources

Ohio Lakefront Group timeline

ODNR Timeline

Ben Barros' Property-Prof Blog

ODNR Public Access Guidebook
---
---
---
Stories with Recent Comments