Loading...


Economy and Business



Friday, June 25, 2010




Latest round of state tax credits for historical building renovation could be the last




13 projects awarded statewide, 5 in Northeast Ohio


by WKSU's KEVIN NIEDERMIER


Reporter
Kevin Niedermier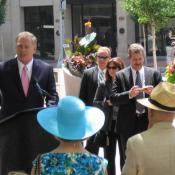 Governor Strickland announces the latest round of Ohio Historical Preservation Tax Credits in Downtown Cleveland.
Courtesy of Kevin Niedermier
Download (WKSU Only)
In The Region:
More than a dozen Ohio Historic Preservation Tax Credits were awarded to re-development projects across the state today. The tax breaks help generate other investment in the renovation of historic buildings. Backers say the tax incentives also create jobs. But this round of awards could be the last.
---
---
---
Stories with Recent Comments