Loading...


Arts and Entertainment



Tuesday, June 29, 2010




Some see movie posters as great art




And Cleveland created much of it




by WKSU's MIKE OLSZEWSKI



Reporter
Mike Olszewski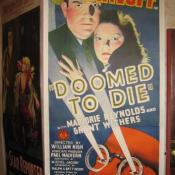 Movie posters ranging from the classic to the obscure draw interest from collectors and those attending just to see what?s being offered.
Download (WKSU Only)
For years, movie posters were disposable art -- colorful ads promising romance and adventure -- routinely torn down and discarded to make way for the next batch of films at neighborhood theaters. Some even ended up as wall insulation. But a growing number of investors and fans now consider them their own art form, and one of the biggest collectors is selling off select pieces of his own collection and taking consignments from others. WKSU's Mike Olszewski has more on the attraction...
---
---
---
Stories with Recent Comments