Loading...



From WKYC.COM / TV 3
Get the latest school closings and delays


Funding for WKSU is made possible in part through support from the following businesses and organizations.
---
For more information on how your company or organization can support WKSU, download the WKSU Media Kit.

(WKSU Media Kit


)
---

Science and Technology



Monday, July 26, 2010




Coyotes: Northeast Ohio's stealth neighbors




Researchers from local, state, and federal levels, and from area universities are cooperating in a major study


by WKSU's TIM RUDELL


Reporter
Tim Rudell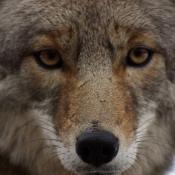 Coyotes were not originally found in Ohio. But, after wolves were eliminated from the state a century ago these smaller and more elusive cousins steadily expanded to fill the habitat niche...
Courtesy of Photo by Christopher Bruno. Licensed under Creative Commons Attribution - http://creativecommons.org/licenses/by/3.0/us/
Download (WKSU Only)
In The Region:
All over the area life-time committed couples are working together to feed their families and fix up their places. And, because they like to keep to themselves, we usually don't even know they are among us...that is, unless they try to eat the cat. Tim Rudell reports
---
---