Loading...



From WKYC.COM / TV 3
Get the latest school closings and delays


Funding for WKSU is made possible in part through support from the following businesses and organizations.
---
For more information on how your company or organization can support WKSU, download the WKSU Media Kit.

(WKSU Media Kit


)
---

Economy and Business



Thursday, July 8, 2010




AT&T invests in Akron




The company is also creating its own "wireless corridor" along I-76


by WKSU's TIM RUDELL


Reporter
Tim Rudell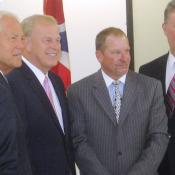 State and local leaders gather with AT&T's Tom Pelto (from the right: Summit County Excutive Russ Pry; AT&T Ohio President Tom Pelto; Ohio Governor Ted Strickland; and Akron Mayor Don Plusquellic
Courtesy of Rudell
Download (WKSU Only)
In The Region:
AT&T is spending is $120 million in Akron to expand its wireless services for a region reaching from Northeast Ohio to the East Coast. WKSU's Tim Rudell reports.
---
---
---