Loading...


Sports



Friday, July 9, 2010




The LeBron drama is over, but hometown feels the pain




It was definitely much ado, but the effect may not be fully known for a long time


by WKSU's TIM RUDELL


Reporter
Tim Rudell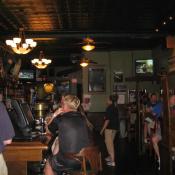 Fans and long-time area residents watch the screens as an hour-long program on ESPN features James decision
Courtesy of Rudell
Download (WKSU Only)
In The Region:
It's done. Local basketball wonder LeBron James is local no more. After months of speculation and unprecedented media attention the Akron-born star went on national TV last night (Thursday) to say he's leaving the Cleveland Cavaliers for the Miami Heat. WKSU's Tim Rudell was with some life-long Akron residents, and LeBron fans, as they watched.
---
---
---