Loading...



From WKYC.COM / TV 3
Get the latest school closings and delays


Funding for WKSU is made possible in part through support from the following businesses and organizations.
---
For more information on how your company or organization can support WKSU, download the WKSU Media Kit.

(WKSU Media Kit


)
---

Courts and Crime



Thursday, July 15, 2010




Support swells for a revered Northeast Ohio clergyman




Even as questions swirl around the long-time leader of Interval Brotherhood Home, friends and colleagues express belief in him


by WKSU's TIM RUDELL


Reporter
Tim Rudell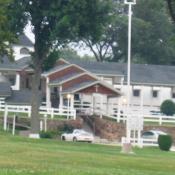 Interval Brotherhood Home in Summit County's Coventry Township - the campus is on the grounds of a former monastery
Courtesy of Rudell
Download (WKSU Only)
In The Region:
Samuel Ciccolini is a man accused of federal crimes. He is also a long-serving Catholic priest in Northeast Ohio, the founder of a leading alcohol and drug rehabilitation center, and a man so lauded for good works that he was invited to say Mass with the Pope. WKSU's Tim Rudell has more on the curious story of "Father Sam..."
---
---