Loading...



From WKYC.COM / TV 3
Get the latest school closings and delays


Funding for WKSU is made possible in part through support from the following businesses and organizations.
---
For more information on how your company or organization can support WKSU, download the WKSU Media Kit.

(WKSU Media Kit


)
---

Economy and Business



Thursday, August 5, 2010




Grassy slope proposed for Cleveland's new convention center




Design would give visitors more to do according to designers


by WKSU's KEVIN NIEDERMIER


Reporter
Kevin Niedermier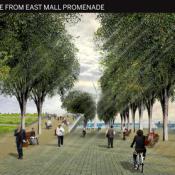 A rendering of what the proposed grassy slope would look like viewed from the south.
Courtesy of LMN Architects
Download (WKSU Only)
In The Region:
The latest design proposal for the public space above Cleveland's new convention center project calls for a grassy slope rising toward Lake Erie.
---
---