Loading...


Environment



Monday, August 9, 2010




Higher funding requested to help stop sewage flowing into Great Lakes




Environmental advocates calling for green solutions to combined sewer overflow problems


by WKSU's KEVIN NIEDERMIER


Reporter
Kevin Niedermier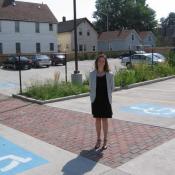 Kristy Meyer of the Ohio Environmental Council in a "green" parking lot in Cleveland's Tremont neighborhood. The surface is graded so storm water runs to the brick area she standing on. The water runs through the bricks and through sand and to the plants behind her. This cleans the water and allows the landscaping to absorb it.
Courtesy of Kevin Niedermier
Download (WKSU Only)
In The Region:
Environmental advocates are calling on the federal government to do more to help curb untreated sewage flowing into the Great Lakes.
---
---
---
Stories with Recent Comments