Loading...



From WKYC.COM / TV 3
Get the latest school closings and delays


Funding for WKSU is made possible in part through support from the following businesses and organizations.
---
For more information on how your company or organization can support WKSU, download the WKSU Media Kit.

(WKSU Media Kit


)
---

Social Issues



Friday, August 13, 2010




The Budget, the national newspaper of the Amish, still thriving after 120 years




Hundreds of volunteer scribes meet in Sugarcreek


by WKSU's AMANDA RABINOWITZ


Morning Edition Host
Amanda Rabinowitz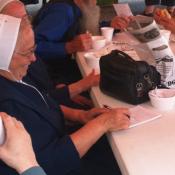 At The Budget's scribe gathering, many bring their reporter's notebooks to record their visit as material for the following week's edition.
Courtesy of Amanda Rabinowitz
Download (WKSU Only)
In The Region:
At a time when many newspapers are struggling, one unique weekly paper continues to thrive much as it has for 120 years. That's because it knows its audience. The Budget is the primary communication link among Amish worldwide. Recently, its writers gathered at the paper's headquarters in Sugarcreek, Ohio to hone their journalism skills
---
---