Loading...


Social Issues



Monday, August 23, 2010




Easing the transition from soldier to civilian




Community-based programs help vets readjust to life after war


by WKSU's JEFF ST. CLAIR


Reporter / Host
Jeff St. Clair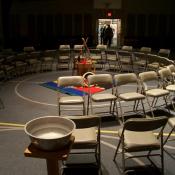 Participants exit a healing ceremony at the First Congregational Church in Tallmadge. Veterans sit in the inner circle facing civilans in the outer circle.
Courtesy of Jeff St.Clair, WKSU
Download (WKSU Only)
In The Region:
In the military, 12 weeks of basic training can get you a soldier. But returning to civilian life can take years. Much of the responsibility for the transition falls to the Veterans Administration, but community-based groups like one in Tallmadge are helping veterans make that transition by acknowledging that military service changes people permanently. WKSU's Jeff St.Clair reports.
---
---
---
Stories with Recent Comments