Loading...



From WKYC.COM / TV 3
Get the latest school closings and delays


Funding for WKSU is made possible in part through support from the following businesses and organizations.
---
For more information on how your company or organization can support WKSU, download the WKSU Media Kit.

(WKSU Media Kit


)
---

Environment



Tuesday, September 14, 2010




Toxic algae may be long-term problem for Ohio




The bacteria that has overrun the state's lakes this summer is a problem that Ohioans will likely face again next year




Story by

ALISON RITCHIE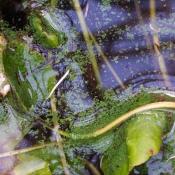 The toxic algae will begin to diminish when water temperatures go below 70 degrees Fahrenheit.
Courtesy of Courtesy of http://picasaweb.google.com/herdsmanlake10
Download (WKSU Only)
This summer's warm sunny days and the high phosphorus levels from agricultural run-off contributed to the formation of the harmful bacteria at more than a dozen lakes and reservoirs around Ohio. That resulted in no-contact and other warnings that people should be careful around the water.

John Hageman is laboratory manager at Ohio State University's Stone Laboratory in Put-in-Bay. He says until state officials determine all of the causes, the algae will persist.
The algae first showed up at alarming levels in Grand Lake St Mary's in Northwest Ohio. It's since led to warnings at Lake Erie and parks in all parts of the state – including the newest park – Wingfoot in Portage County.
Page Options

Print this page

E-Mail this page / Send mp3

Share on Facebook
---
---
Stories with Recent Comments