Loading...


Other Stories



Friday, October 8, 2010




Poets seek peace in Middle East




Jewish and Palestinian-American use poetry to create dialogue at Kent State


by WKSU's JEFF ST. CLAIR


Reporter / Host
Jeff St. Clair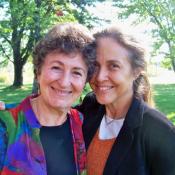 Poets Chana Bloch (left) and Naomi Shihab Nye (right) draw from their respective Jewish and Palestinian roots to create a dialogue on the thorny issue of Middle East peace.
Courtesy of Jeff St.Clair,WKSU
Download (WKSU Only)
For more than 60 years, Israelis and Palestinians have been locked in a bitter struggle over their homelands. And while violence captures headlines, many are quietly working toward peace.
Palestinian-American poet Naomi Shihab Nye, and poet and Hebrew translator Chana Bloch met yesterday at Kent State to present a conversation between Israel and Palestine through poetry, as part of the Wick Poetry series.
---
Related Links & Resources

Wick Poetry Center at Kent State University

Naomi Shihab Nye - brief bio

Chana Bloch's website
---
---
---
Stories with Recent Comments