Loading...



From WKYC.COM / TV 3
Get the latest school closings and delays


Funding for WKSU is made possible in part through support from the following businesses and organizations.
---
For more information on how your company or organization can support WKSU, download the WKSU Media Kit.

(WKSU Media Kit


)
---

Sports



Tuesday, October 12, 2010




Kent retires Cribbs' number




Browns standout set records at Kent first


by WKSU's KEVIN NIEDERMIER


Reporter
Kevin Niedermier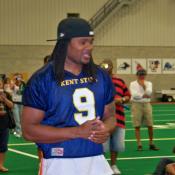 Josh Cribbs got his start with Northeast Ohio football as Kent State's quarterback
Download (WKSU Only)
In The Region:
Kent State University is retiring the jersey number of Joshua Cribbs, one of the most popular players on the Cleveland Browns.
Cribbs played quarterback at Kent State where he set a school record for all-time total offense before becoming an undrafted signee with the Browns in 2005. He's the only player in NCAA history to lead his team in both rushing and passing in four different seasons.
Cribbs' number nine is just the fourth number retired in Kent State's 88-year football history. Cribbs calls the announcement and honor and affirmation.
Cribbs retired jersey number will join those of former Kent State football stars Jim Corgall, Eric Wilkerson, and former Pittsburgh Steelers linebacker Jack Lambert.
---
---