Loading...


Economy and Business



Monday, November 1, 2010




New life possible for Northeast Ohio mall which was once the world's biggest




South African developer hopes the mall will be model for dead mall reuse


by WKSU's KEVIN NIEDERMIER


Reporter
Kevin Niedermier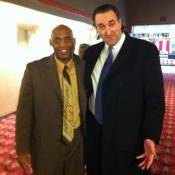 Village of North Randall Mayor David Smith (L) and developer Neill Bernstein hope the abandoned Randall Park Mall will become a template for Bernstein's vision to revive dead malls as money making multi-use facilities.
Courtesy of Kevin Niedermier
Download (WKSU Only)
In The Region:
A South African developer hopes an abandoned Northeast Ohio shopping mall will be the model for dead shopping mall re-development across the country. WKSU's Kevin Niedermier reports that the concept is not to bring back retail…but to turn old malls into multi-use facilities that drive economic futures.
---
---
---