Loading...


Arts and Entertainment



Thursday, November 18, 2010




For some, the Cleveland Orchestra means business




Orchestra helps Northeast Ohio connect with Asian markets, and vice versa


by WKSU's VIVIAN GOODMAN


Reporter
Vivian Goodman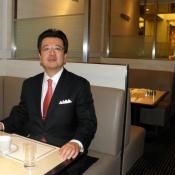 The CEO of Quality Electrodynamics of Mayfield Village, Ohio is starting the day with coffee at his favorite Tokyo hotel, the Imperial. Tonight, Hiroyuki Fujita is taking a number of important colleagues to Suntory Hall to hear Franz Welser Most conduct the Cleveland Orchestra.
Download (WKSU Only)
In The Region:
The Cleveland Orchestra's Asian tour comes at a time when China, India, Japan and Korea are aiming for major roles in international business. Japan is still climbing out of a long recession, but remains one of the biggest markets for western classical music. And there's no shortage of concert-goers even at Tokyo ticket prices of up to $250.
Most of the Cleveland Orchestra concerts in Tokyo are sold out, and as WKSU's Vivian Goodman reports , that's encouraging to Northeast Ohio-based companies who do business worldwide:
---
---
---