Loading...


Arts and Entertainment



Thursday, November 18, 2010




Orchestra performs Beethoven to conclude Tokyo residency




With Japan's love of Beethoven, program is enthusastically received


by WKSU's VIVIAN GOODMAN


Reporter
Vivian Goodman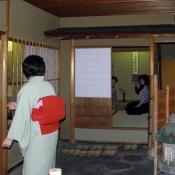 Amid the bustle of the world's largest metropolitan economy are bamboo gardens and quiet shrines. In a five-star hotel in downtown Tokyo, you can step into the ancient rituals of a tea ceremony.
Courtesy of Vivian Goodman
Download (WKSU Only)
In The Region:
You wouldn't know it today with Starbucks and 7-Eleven's all over downtown Tokyo, but Japan was once isolated from the western world. The Japanese weren't exposed to classical western music until the second half of the 19th century, but they liked what they heard, especially Beethoven.
To conclude its residency at Tokyo's Suntory Hall, the Cleveland Orchestra performs nothing but Beethoven. WKSU's Vivian Goodman reports it follows a Japanese-flavored program that was enthusiastically received.
---
---
---