Loading...



From WKYC.COM / TV 3
Get the latest school closings and delays


Funding for WKSU is made possible in part through support from the following businesses and organizations.
---
For more information on how your company or organization can support WKSU, download the WKSU Media Kit.

(WKSU Media Kit


)
---

Arts and Entertainment



Friday, November 19, 2010




Orchestra tour pays off




Cleveland Musical Arts Association President says Asia tour builds more than goodwill


by WKSU's VIVIAN GOODMAN


Reporter
Vivian Goodman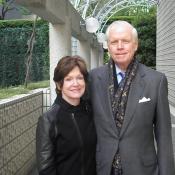 Musical Arts Association President Dennis LaBarre with his wife Camille in the entrance to the plaza at Suntory Hall.
Courtesy of Vivian Goodman
Download (WKSU Only)
The Cleveland Orchestra continues to delight audiences in Japan. In the past, the orchestra would have settled for losing a little money on a tour in return for spreading its reputation. But the President of the Musical Arts Association, which oversees the orchestra, says that's not true any longer. In Tokyo yesterday (Thursday), Dennis LaBarre spoke about the finances of the Asian tour with WKSU's Vivian Goodman, who's following the orchestra on the trip …
---
---
---