Loading...



From WKYC.COM / TV 3
Get the latest school closings and delays


Funding for WKSU is made possible in part through support from the following businesses and organizations.
---
For more information on how your company or organization can support WKSU, download the WKSU Media Kit.

(WKSU Media Kit


)
---

Arts and Entertainment



Monday, November 22, 2010




Orchestra, many others benefit from tour




Musicians, businesses, hospitals reap rewards of Cleveland-Asia connection


by WKSU's VIVIAN GOODMAN


Reporter
Vivian Goodman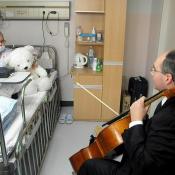 Principal cellist Mark Kosower performed for a boy in Severance Hospital's pediatric oncology ward.
Courtesy of Vivian Goodman/WKSU
Download (WKSU Only)
A lot has changed since the last time the Cleveland Orchestra visited Seoul, South Korea. The tour may not be as profitable as it once was, but WKSU's Vivian Goodman reports that the cultural and economic benefits of the Cleveland Orchestra continue for the orchestra and Northeast Ohio.
---
Related WKSU Stories

Cleveland means music and baseball for Koreans
Monday, November 22, 2010

Orchestra tour pays off
Friday, November 19, 2010

Sightseeing takes a back row
Friday, November 19, 2010

For some, the Cleveland Orchestra means business
Thursday, November 18, 2010

Orchestra performs Beethoven to conclude Tokyo residency
Thursday, November 18, 2010
---
---
---