Loading...



From WKYC.COM / TV 3
Get the latest school closings and delays


Funding for WKSU is made possible in part through support from the following businesses and organizations.
---
For more information on how your company or organization can support WKSU, download the WKSU Media Kit.

(WKSU Media Kit


)
---

Government and Politics



Thursday, December 30, 2010




Record budget cuts are on the way




Local governments are facing major revenue losses due to lower tax receipts


by WKSU's TIM RUDELL


Reporter
Tim Rudell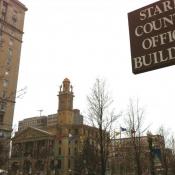 Canton's Central Plaza includes both the Stark County Court House, and the County Office complex
Courtesy of Rudell
Download (WKSU Only)
In The Region:
Some Northeast Ohio communities will cut police protection in the New Year. It will take longer to get inspections and hearings, too, and to register a birth, a death, or a deed. WKSU's Tim Rudell reports on how the cuts that are affecting so many townships, cities and counties are playing out in one of the hardest hit.
---
---
---