Loading...



From WKYC.COM / TV 3
Get the latest school closings and delays


Funding for WKSU is made possible in part through support from the following businesses and organizations.
---
For more information on how your company or organization can support WKSU, download the WKSU Media Kit.

(WKSU Media Kit


)
---

Government and Politics



Friday, February 4, 2011




Halim El-Dabh sees signs of hope in Egyptian protests




Egypt's best known composer muses on the meaning of the unrest


by WKSU's JEFF ST. CLAIR


Reporter / Host
Jeff St. Clair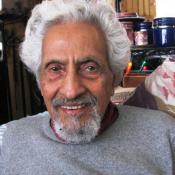 Halim El-Dabh came to the U.S. in 1950 to study music as a Fulbright scholar, he became a citizen in 1961. El-Dabh, who turns 90 next month, still teaches at Kent State University and maintains an active performance schedule.
Courtesy of Jeff St.Clair, WKSU
Download (WKSU Only)
Six decades after he left his home country, Halim El-Dabh remains Egypt's most famous composer. His music is played each night at the pyramids of Giza - that is until this past week's violence disrupted normal life in the region.
El-Dabh first came to the United States in 1950 to study music on a Fulbright scholarship. He eventually settled in Ohio where now at nearly 90 he is an emeritus professor of music and ethnomusicology at Kent State University.
We spoke over tea at his home in Kent where he's been watching events unfold. El-Dabh says he's a musician, not a politician, but he sees the protests as a long repressed need among Egyptians to live what he calls a 'decent life'.
A concert at the New York Public Library for the Performing Arts on Feb. 3 celebrated the life and music of Halim El-Dabh, in honor of his upcoming 90th birthday . El-Dabh is an emeritus professor of music and ethnomusicology at Kent State University.
Music in this story:
Misri-yaat
(written 1932 revised periodically to present) Time 5:57; Halim El-Dabh on piano.
From the CD 'Chambers and Concertos', recorded at the live performance 'Reflections on the River Nile: The Music of Halim El-Dabh';
The Rocky River Chamber Music Society (Ohio), Nov. 19, 2007
---
Related Links & Resources
Halim El-Dabh official website
Halim El-Dabh on Wikipedia
WKSU reporter Julie Grant travels with El-Dabh to Alexandria
New York celebration of El-Dabh's 90th year
---
---