Loading...



From WKYC.COM / TV 3
Get the latest school closings and delays


Funding for WKSU is made possible in part through support from the following businesses and organizations.
---
For more information on how your company or organization can support WKSU, download the WKSU Media Kit.

(WKSU Media Kit


)
---

Government and Politics



Monday, February 7, 2011




Going to the source




In a community with major budget challenges, there is a public meeting on tap to provide citizens with information and gather opinions


by WKSU's TIM RUDELL


Reporter
Tim Rudell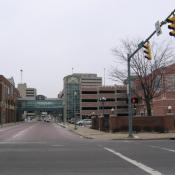 Downtown Canton - seen from the southeast. Although the city's budget for 2011 is up a little from 2010 it is down signifcantly from before the recession hit.
Courtesy of RUdell
Download (WKSU Only)
In The Region:
Resident of northeast Ohio's third largest city get a chance to talk to their mayor about the very tight 2011 general fund budget. WKSU's Tim Rudell reports
---
---
---