Loading...



From WKYC.COM / TV 3
Get the latest school closings and delays


Funding for WKSU is made possible in part through support from the following businesses and organizations.
---
For more information on how your company or organization can support WKSU, download the WKSU Media Kit.

(WKSU Media Kit


)
---

Government and Politics



Friday, February 18, 2011




"Not bad" news




A look at how northeast Ohio's second largest county is doing as 2011 gets fully under way


by WKSU's TIM RUDELL


Reporter
Tim Rudell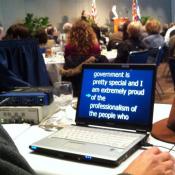 The view from the teleprompter...as Summit County Executive Russell Pry delivers his address
Courtesy of T. Rudell
Download (WKSU Only)
In The Region:
The state of Summit County is very good…"considering."
Summit County Executive Russell Pry gave that assessment Friday to an Akron Press Club luncheon crowd of about seven hundred at the Knight Center. WKSU's Tim Rudell reports.
---
---
---