The bus was late, and I was getting impatient. School had already drained me for the day and
I still needed to get into the city to drop off resumes and do some job hunting. Shortly after
we got under way the bus began to pitch violently, it felt like we were going to roll over or
veer into a wall. I thought for sure we had blown a tire, but even after the driver pulled over
and stopped, we were still shaking side-to-side and front-to-back. Most of us were oblivious
as to what happened until the front passenger pointed excitedly to a cracked wall and said 'that just happened!

'
It became clear immediately what had actually 'just happened'.
All buses were being ordered to pull over at once and await further instruction. The gridlock was immediate and absolute. Drivers radio in frantically to report injuries and casualties on board. Yet others call in desperate to get word to loved ones. Cell phone lines are immediately jammed. With no way else to get home I, and most of the passengers, went out on foot.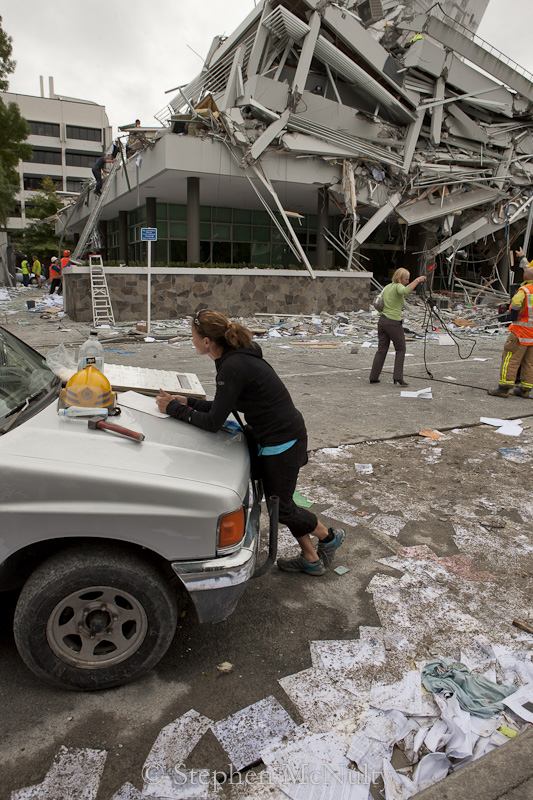 The sound of sirens now fills the air with a new tone on every block. Entire facades lay in the street splaying the contents of their buildings like a dollhouse. After shocks riddle the city, some so strong I'm nearly knocked over. All overhanging objects suddenly became potential 'widow makers': street lamps, signs, windows, and anything made of brick.
Frightened guardsmen quickly rush survivors away from any building, forcing pedestrians to the middle of the roads where emergency vehicles make haste to the various triage scenes. Smoke and ash fill the air; the entire town smells like burning plastic.
New to town, I have to stop and ask for directions at every impass. I know I have to get home to my cameras and I'm trying to take mental pictures on my way so I can come back; knowing full well I'll be clueless, but the exercise helps keep me calm. In what seems like an eternity, I finally make it to the apartment. I grab two cameras, check the batteries and memory cards, pause for a quick prayer, and pull on my hiking boots before heading back out. Dying of thirst after my trek I tug on the faucet only to discover the inevitable: no water – a problem that is to persist. Cameras in hand I head back out to the main road and immediately throw out my thumb.
Explosive after shocks still plague the crumbling city and the danger is now palpable. With no electricity, no water, and no safe place to be inside, people are now gathering in any open area. I saw one group passing a bottle of champagne, yet another a bottle of Jack Daniel's. BBQs are set up everywhere. Occasionally there was an odd radio set up, but it was too early for any cogent reportage.
I walk the city vainly snapping at anything in front of me. I make my way to Latimer Square and to the Cathedral; through Barbadoes and to the Art Gallery; to the mobile command battling the fires in the CTV building, and to the PG building where the scene is so macabre it defies description.
Victims stumble outside with blood soaked bandages around their head asking about their coworkers still trapped inside.
Firemen assault the building with cranes and all manner of light equipment to make their way through the concrete flotsam and jetsam to the faint moans and scratches they hear below. I walk the city for hours trudging through the muck. Eventually I am so tired and dehydrated I can't go any further. I sit down on the curb.

I follow the helicopters and wind up back at the mobile command center. I ask for water,but nobody has any yet, no watering stations have been announced. At this point I realize how important it is going to be to conserve my resources, both water and energy, and I still have another 3 mile walk to get home. With little delay I get back to the flat to sort through the wreckage of my own shattered life.
The kitchen is ransacked: appliances in the middle of the room with broken eggs, sauce bottles, and various other messy (and smelly) ingredients. Amongst the goo I find one surviving beer, I guzzle it down in one gulp – it was the best beer I had ever tasted.
About this time Kiril and Artim, my two Russian flatmates, started arriving home and we started thinking about what to do next. It's now completely dark, we have no news from the outside, and it's too dangerous to stay in the still shaking house. We listen to the news on the radio almost as if it were something happening to someone else; it still isn't quite real. Eventually we abandon our Quixotic search for a safe night's sleep and return to the abysmally dark flat. We lay awake through a night of after shocks to get up jittering from exhaustion, dehydration, and hunger.
They say they think they know a part of town that had power and they might have a friend there. So we set out. A trip that would normally take 5-10 minutes took a couple of hours. Almost every road was crumbling, filled with liquefaction and flood, or completely closed off by rescue workers.
Finally we made it to Mairehau, an oasis in the devastation. Save for a few broken windows and pieces of furniture, the place is untouched. They have power, television, even water – I didn't want to leave. We got to the Russians' friend's house and I finally got to get online and get word out that I was alright and send out a few photos. It felt great to reach out to the rest of the world and to know that normality still exists.

Eventually though we had to go before we over stayed our welcome. Artim, Kiril, and I continued driving. The city is still shaking.

Stephen McNulty