Loading...


Environment



Tuesday, March 1, 2011




FirstEnergy gets a bad grade




Environmental watchdog Environment Ohio says First Energy did not meet renewable energy goal, company invests in wind power


by WKSU's JEFF ST. CLAIR


Reporter / Host
Jeff St. Clair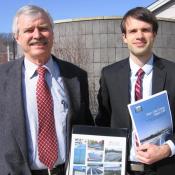 Alan Frasz (left) is Vice President of Dovetail Solar and Wind, Julian Boggs (right) is the author of Environment Ohio's Clean Energy Report Card. The report says that Ohio's Renewable Portfolio Standards law has helped boost a burgeoning solar industry.
Courtesy of Jeff St.Clair, WKSU
Download (WKSU Only)
In The Region:
An environmental watchdog group says Ohio's clean energy law is working to an extent. Ohio is one of 36 states that require that an increasing percentage of electricity must come from renewable sources. In Ohio, that's 12.5 % by 2025. The group Environment Ohio says the renewable standard is creating new jobs in solar and wind energy, but only 3 of Ohio's 4 major utilities are so far complying with the clean energy law. Julian Boggs' Clean Energy report card gives Akron-based FirstEnergy a failing grade for its efforts to switch to renewable energy.
First Energy's Mark Durbin acknowledges that the Akron-based utility has not met the solar requirement but notes the company is investing in another form of clean energy.
Durbin says FirstEnergy announced a contract with a wind facility.
The Environment Ohio report gave top marks to Duke Energy and Dayton Power & Light for their renewable efforts. Columbus-based American Electric Power got a grade of 'B'.
---
---
---
Stories with Recent Comments