Loading...



From WKYC.COM / TV 3
Get the latest school closings and delays


Funding for WKSU is made possible in part through support from the following businesses and organizations.
---
For more information on how your company or organization can support WKSU, download the WKSU Media Kit.

(WKSU Media Kit


)
---

Economy and Business



Monday, March 7, 2011




American Greetings not leaving the state




State incentives keep company in Northeast Ohio, but local move still possible


by WKSU's KEVIN NIEDERMIER


Reporter
Kevin Niedermier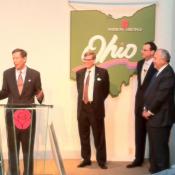 Governor Kasich (L-R), Ohio House Speaker William Batchelder, Zev and Morrie Weiss of American Greetings announcing the company will stay in Ohio.
Courtesy of Kevin Niedermier
Download (WKSU Only)
In The Region:
A major employer…and its 2000 jobs.. will stay in Northeast Ohio after receiving help from the state. American Greetings had considered moving its headquarters from the Cleveland suburb of Brooklyn after that city raised its income taxes last year. A new tax incentive package signed into law by Governor John Kasich today has prevented a defection to Illinois. But as WKSU's Kevin Niedermier reports,
there is no guarantee American Greetings will stay in Brooklyn…..
---
---