Loading...



Funding for WKSU is made possible in part through support from the following businesses and organizations.
---
For more information on how your company or organization can support WKSU, download the WKSU Media Kit.

(WKSU Media Kit


)
---

Other Stories



Thursday, March 24, 2011




Status change for Father Sam




No pastoral duties while legal matters linger


by WKSU's TIM RUDELL


Reporter
Tim Rudell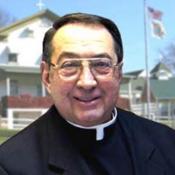 Father Samuel Ciccolini of Akron began Interval Brotherhood Home in 1970...
Courtesy of IBH
Download (WKSU Only)
In The Region:
"Father Sam" -- the internationally famous priest and founder of northeast Ohio's Interval Brotherhood Home -- has been moved to the "awaiting assignment" list by the Catholic Diocese of Cleveland. WKSU's Tim Rudell has more why, and what it means…
---
---