Loading...


Economy and Business



Wednesday, March 30, 2011




Highland Square gets a new place to shop




Local company will develop food store


by WKSU's TIM RUDELL


Reporter
Tim Rudell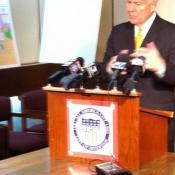 During an afternoon news conference Akron Mayor Don Plusquelllic talks about the plans for a new Mustard Seed Market
Courtesy of WKSU Rudell
Download (WKSU Only)
In The Region:
For the first time in more than a decade, one northeast Ohio "old neighborhood" is getting a new grocery store. Quality- of-life basics, like having a place to shop for food reasonably nearby, have been rapidly disappearing from urban America. So, even though the store itself will be of modest size, plans for a new market made big news today (Wednesday) in Akron.
---
---
---
Stories with Recent Comments