Loading...



From WKYC.COM / TV 3
Get the latest school closings and delays


Funding for WKSU is made possible in part through support from the following businesses and organizations.
---
For more information on how your company or organization can support WKSU, download the WKSU Media Kit.

(WKSU Media Kit


)
---

People



Monday, April 4, 2011




Census numbers affirm that Cleveland remains one of nation's most segregated urban regions




Blacks continue to be concentrated in a "C" extending east of Cleveland


by WKSU's M.L. SCHULTZE


Web Editor
M.L. Schultze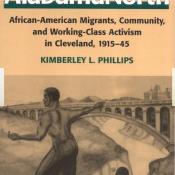 Kimberly Phillips says, unlike Pittsburgh, Cleveland attracted African American families attracted by jobs and schools.
Download (WKSU Only)
Ohio has two of the 10 most segregated urban centers in the U.S. And Cleveland ranks No. 5, according to an analysis of the latest Census numbers. WKSU's M.L. Schultze reports that the figures show that an area that was once a huge draw for black families escaping Southern segregation continues to have its own very distinct racial lines.
---
---