Loading...



From WKYC.COM / TV 3
Get the latest school closings and delays


Funding for WKSU is made possible in part through support from the following businesses and organizations.
---
For more information on how your company or organization can support WKSU, download the WKSU Media Kit.

(WKSU Media Kit


)
---

Government and Politics



Wednesday, April 6, 2011




FitzGerald gives first state of county address




Includes ambitious economic development plan


by WKSU's KEVIN NIEDERMIER


Reporter
Kevin Niedermier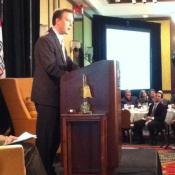 Cuyahoga County Executive delivers his first state of the county address.
Courtesy of Kevin Niedermier
Download (WKSU Only)
In The Region:
Cuyahoga County will invest part of its sales tax to fund economic development, education and a safety program . County Executive Ed FitzGerald gave details of the plan during his first state of the county address. As WKSU's Kevin Niedermier reports…FitzGerald says the ambitious plan cannot wait….
---
---