Loading...



From WKYC.COM / TV 3
Get the latest school closings and delays


Funding for WKSU is made possible in part through support from the following businesses and organizations.
---
For more information on how your company or organization can support WKSU, download the WKSU Media Kit.

(WKSU Media Kit


)
---

Arts and Entertainment



Friday, April 15, 2011




"Porgy and Bess" in Akron




The Akron Symphony and a cast in the hundreds present Gershwin's opera


by WKSU's VIVIAN GOODMAN


Reporter
Vivian Goodman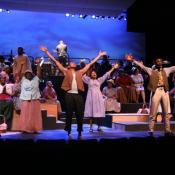 A combined chorus of more than 200 voices includes the Akron Symphony's Gospel Choir.
Courtesy of Akron Symphony Orchestra
Download (WKSU Only)
In The Region:
E. J. Thomas Hall is nearly sold out for this weekend's performances of George Gershwin's "Porgy and Bess". The Akron Symphony Orchestra production has been a massive undertaking, involving more than 350 singers, players and stage crew. It's the first fully-staged opera in the orchestra's history. The choice of "Porgy and Bess" is a natural one for Music Director Christopher Wilkins and his musicians because of the annual success of "Gospel Meets Symphony". But the opera's performance history is not without controversy.
---
---