Loading...


Government and Politics



Monday, April 18, 2011




Head of Cleveland Catholic Diocese says proposed state budgets cuts too hard on poor




Bishop Lennon says cuts needed, but aim is wrong


by WKSU's KEVIN NIEDERMIER


Reporter
Kevin Niedermier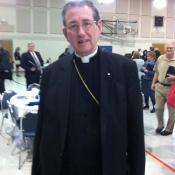 Bishop Richard Lennon says the state needs to reduce spending to close the budget gap, but he's concerned Governor Kasich's proposed budget leans to heavily on cuts to programs for the poor.
Courtesy of Kevin Niedermier
Download (WKSU Only)
In The Region:
As the man who closed scores of Northeast Ohio churches because of money problems, the head of the Cleveland Catholic Diocese understands Ohio's need to cut its budget to close a multi-Billion dollar budget gap. But as WKSU Kevin Niedermier reports, Bishop Richard Lennon also says Governor John Kasich is squeezing too much from programs for the poor, many of which are administered by Lennon's diocese.
---
---
---
Stories with Recent Comments