Loading...



From WKYC.COM / TV 3
Get the latest school closings and delays


Funding for WKSU is made possible in part through support from the following businesses and organizations.
---
For more information on how your company or organization can support WKSU, download the WKSU Media Kit.

(WKSU Media Kit


)
---

Economy and Business



Tuesday, April 19, 2011




Cleveland unveils Hopkins airport blueprint for next quarter century




City says the use must justify the expense


by WKSU's KEVIN NIEDERMIER


Reporter
Kevin Niedermier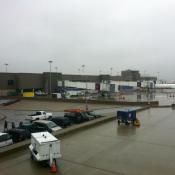 Hopkins airport will see major changes under a plan unveiled today.
Courtesy of Kevin Niedermier
Download (WKSU Only)
In The Region:
Cleveland officials announced plans were announced today to spend more than $1.5 billion on improvements at Hopkins International Airport over the next quarter century. WKSU's Kevin Niedermier reports that the city hopes to make its airport more globally competitive…and more self sufficient……
---
---