Loading...


Ohio



Tuesday, April 26, 2011




Environmentalists want to hold oil fracking in Ohio for one year




Environmentalists protested today to show their concerns with the chemicals that are pumped into the ground at sites of oil fracking at a conference in favor of the method that could come to Ohio




by WKSU's STATEHOUSE CORRESPONDENT BILL COHEN



Reporter
Bill Cohen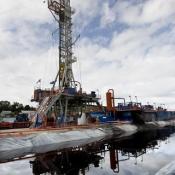 Fracking continues to spur big debate in New York, Pennsylvania and now Ohio.
Courtesy of The Patriot-News
Download (WKSU Only)
Some Ohio environmental activists are calling for a one-year moratorium on a new method used to extract natural gas from underground shale. It's called fracking. It involves pumping huge amounts of water, laced with chemicals, into the ground to crack the rock and release the fuel. The Ohio activists are worried if it's used here, problems reported in other states could repeat themselves. Statehouse correspondent Bill Cohen reports.
---
---
---
Stories with Recent Comments