Loading...


Arts and Entertainment



Thursday, June 2, 2011




The late Harvey Pekar captures the spirit of his Cleveland Heights neighborhood in a posthumously published work




"Huntington, West Virginia On the Fly" contains the story of Steve Presser of Big Fun and his comeback from financial ruin


by WKSU's VIVIAN GOODMAN


Reporter
Vivian Goodman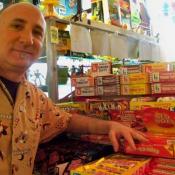 Steve Presser stocks all the candy you used to bike up to the five-and-dime for along with all the toys and games of yesteryear at Big Fun in the Coventry neighborhood of Cleveland Heights.
Courtesy of Vivian Goodman
Download (WKSU Only)
In The Region:
Just before his death last summer Cleveland Heights-based Harvey Pekar completed a new comic book including four stories. One of them, "Neighborhood Spark Plug and My Buddy" tells how a well-known businessman in Pekar's Coventry neighborhood recovered from near-bankruptcy.
←
Harvey Pekar was a constant presence on the sidewalks of Coventry and frequented Steve Presser's store, Big Fun, but he wasn't really a close friend of the businessman, as much as an admirer of his grit.
←
Big Fun owner Steve Presser says his inspiration for the store he opened 20 years ago was a place in Chicago called "Goodies" owned by a former Clevelander.
---
Related WKSU Stories

Harvey Pekar's last collaborator was a rookie cartoonist who shared his love of Cleveland and great art
Friday, September 10, 2010

Comic book writer, music critic, file clerk, curmudgeon, and lifelong Clevelander Harvey Pekar has died
Tuesday, July 13, 2010

Clevelanders remember Pekar
Tuesday, July 13, 2010

Harvey Pekar dead at 70
Tuesday, July 13, 2010

Vietnam veteran featured in Harvey Pekar's "American Splendor" remembers his friend
Tuesday, July 13, 2010

Comic book curmudgeon Harvey Pekar makes his opera debut
Monday, February 2, 2009

Harvey Pekar's "American Splendor: Our Movie Year"
Wednesday, March 23, 2005
---
---
---
Stories with Recent Comments