Loading...


Environment



Tuesday, May 17, 2011




Ohio tries to figure out what to do with millions of gallons of chemical-laced water used in fracking




Northeast Ohio operations had set up a treatment plan, but the state EPA says that would violate Ohio law


by WKSU's M.L. SCHULTZE


and

ANNA STAVER



Web Editor
M.L. Schultze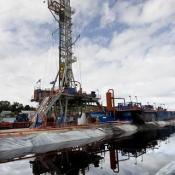 Warren had planned to treat millions of gallons of water shipped in from fracking operations like this one in Pennsylvania.
Courtesy of Patriot News
Download (WKSU Only)
In The Region:
The state appears to be heading off plans by the Warren sewage treatment plant to handle millions of gallons of chemical-laced water that's a byproduct of the drilling process known as fracking. WKSU's M.L. Schultze has more on another dispute involving the emerging technology.
---
---
---
Stories with Recent Comments