Loading...


Science and Technology




Monday, May 23, 2011




Exploradio - The secret world of race tires




Firestone helps the Indy 500 celebrate 100 years of racing and engineers in Akron tweak the secret formula for ever faster results,


by WKSU's JEFF ST. CLAIR
This story is part of a special series.



Reporter / Host
Jeff St. Clair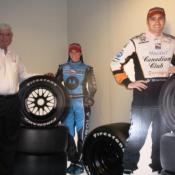 Al Speyer, head of Firestone racing (left) in the Akron research center. Cutouts of racers Danica Patrick (center), and 2010 Indy 500 Winner Dario Franchitti (right) help market Firestone race tires.
Courtesy of Jeff St.Clair, WKSU
Download (WKSU Only)
In The Region:
The 100th anniversary of the Indianapolis 500 is this Sunday. And engineers at the Firestone research center in Akron will be eagerly watching results on race day… tweaking the formula for a winning tire. But, as we report in this week's edition of Exploradio, the technology of race tires remains an intensely guarded secret.
---
---
---
---
---
Stories with Recent Comments