Loading...


Economy and Business



Friday, May 20, 2011




American Greetings moving to Westlake




Greeting card maker taking thousands of jobs to Crocker Park


by WKSU's KEVIN NIEDERMIER


Reporter
Kevin Niedermier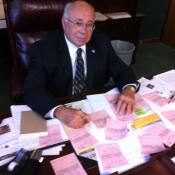 Brooklyn Mayor Richard Belbier says he's disappointed Amercian Greetings chose to leave. But He's confident a new tenant will be found.
Courtesy of Kevin Niedermier
Download (WKSU Only)
In The Region:
American Greetings will move its operation from the blue-collar Cleveland suburb of Brooklyn, to the high-end Crocker Park retail and entertainment complex in Westlake. The announcement came today, just months after the greeting card company announced it was considering new locations, including Illinois. It did leave open the possibility of staying in Brooklyn….
WKSU's Kevin Niedermier reports…the move is a revenue boon for Westlake…but it will leave Brooklyn scrambling to find a replacement for the two-thousand well-paying jobs.
---
---
---
Stories with Recent Comments