Loading...



From WKYC.COM / TV 3
Get the latest school closings and delays


Funding for WKSU is made possible in part through support from the following businesses and organizations.
---
For more information on how your company or organization can support WKSU, download the WKSU Media Kit.

(WKSU Media Kit


)
---

Economy and Business



Monday, June 6, 2011




Energy efficient home heats without a furnace




Hi-tech 'SmartHome' will spend summer on Wade Oval before moving to nearby neighborhood


by WKSU's JEFF ST. CLAIR


Reporter / Host
Jeff St. Clair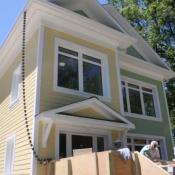 Cleveland's first 'SmartHome' was built by CPK Construction as part of the Cleveland Museum of Natural History's summer-long focus on climate change. The house features hi-tech windows and heating/cooling system, and a 'rain chain' hanging from the downspout, a musical water feature.
Courtesy of Jeff St.Clair, WKSU
Download (WKSU Only)
In The Region:
There's a new house on historic Wade Oval on Cleveland's east side. With thick walls, high tech windows, and no furnace, it's the area's first 'Smart Home'. The house kicks off the Cleveland Museum of Natural History's summer long focus on climate change. It will be open for tours starting today. As workers put the finishing touches on the two-story, 2,500 sq. ft. house, we walk through with its builder, Chris Kontur of CPK Construction. He points out the deep set windows, the tell-tale signature of a 'Smart Home'…
In October, the house will be moved about a half mile to a residential lot on Wade Park Ave. and sold. The sample 'Smart Home' - designed Doty & Miller Architects - cost about $525,000 to build, but once moved will have about $350,000 discounted price tag. It was funded by PNC bank, the Cleveland Foundation, and other sponsors. Tours of the 'Smart Home' at the Cleveland Natural History Museum begin this morning.


To be a certified 'SmartHome' or 'Passive' home, an insulation value of at least R-55 in the walls, and R-75 or more in the ceiling has to be achieved. Doty & Miller Architects.
---
Related Links & Resources
Cleveland Museum of Natural History 'SmartHome' page
Plain Dealer coverage of 'SmartHome'
Doty & Miller Architects
---
---